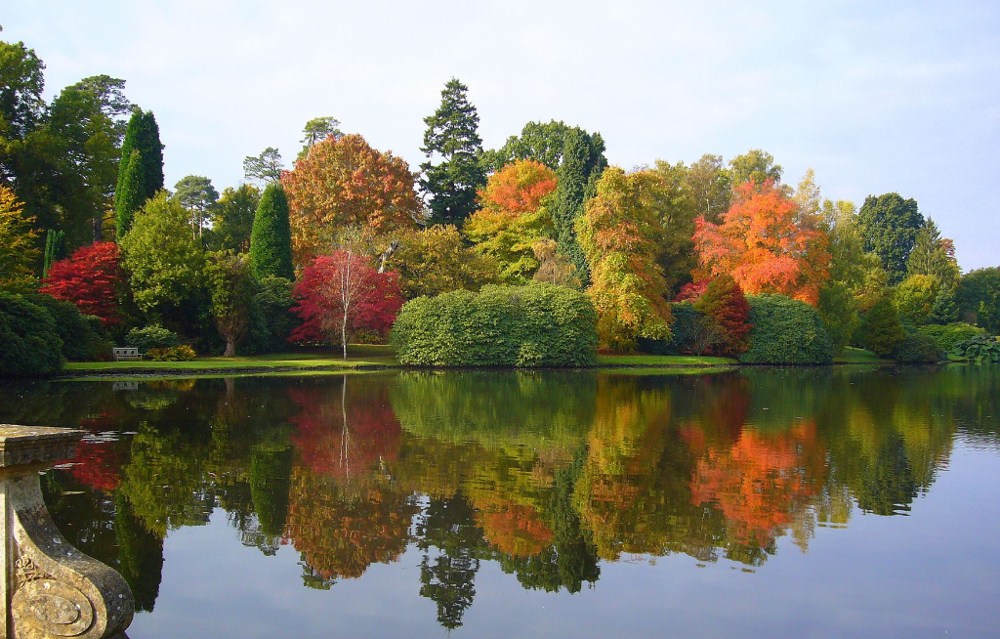 Our final day trip of 2018 will be on November the 14th when we go to Sheffield Park to enjoy the autumn colour. This will be by coach like our first trip.
The gardens feature some spectacular trees including a 140-year old Redwood and an old Thuja with the branches bending down to the ground and up again. There are also a number of spindle trees (Euonymus) to be found in the garden including Euonymus planipes, the flat-stalked spindle, a deciduous tree from eastern Asia similar to a Judas tree. This particular species produces small flowers in August which then give rise to round, bright red fruit that open out to reveal orange seeds. The leaves turn bright red in autumn. There is also a group of ten Cercidiphyllum japonicum (Katsura) in the garden. In late summer to early autumn the foliage turns pale yellow to smoky dark pink with the aroma of burnt sugar or caramel. There are, of course, a large number of species of Acer there, 240 specimens in total. If the season's weather has been favourable, the leaf colours might range from lime green to bright red.
The park has the largest collection in the country of Nyssa sylvatica (Tupelo) on one site, with 400 raised from seed by Arthur Soames between 1910-1924. The tree's native range is the eastern seaboard of North America, from Ontario to Florida. The reason for the concentrated planting of the species was to recreate "the fall", exhibiting the spectacular autumn colours displayed by the species. One variety of this tree has been cultivated here, Nyssa Sylvatica var 'Sheffield Park' and comes into autumn colour about 10 days earlier than others of the genus. Also, a number of Gingko biloba might be showing autumn colour, with their leaves turning to brilliant amber. One comment on Tripadvisor was "Take your camera or you will regret it."
The coach will collect and return passengers at two points, so you can choose which suits you best. The first boarding will be at 8.30am at Stop 24, M20 junction 11, where all day parking will cost £6. The second boarding will be at approx 9.00am at The Mercure, Hollingbourne ME17 1RE. We hope to have you home before dark.
COST: The day trip cost is £35 excluding lunch. Bring a picnic, or wide range of food in cafe.
If you would like to go on this trip, numbers are limited, so please check availability by calling Paul Smallwood on 01303 813198 or email Debbie Burton burtons@live.co.uk.