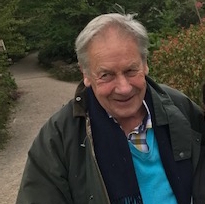 KMOTT members are warmly invited to attend the KMOTT AGM at 2.30pm on Saturday 13 April 2019, as usual at Egerton Village Hall, Elm Close, Egerton TN27 9DS.
This year our speaker is Simon Brice, a KMOTT member whom many of you will know. He will deliver a thirty-minute illustrated talk entitled "A Tricycle Journey to Trees".
Simon's life has been dominated by farming, and in particular fruit farming. His family have farmed for many generations and he has been fortunate in being able to continue the enterprise. He has been involved with many aspects of fruit growing and lately has been a member of the Fruit and Vegetable Committee of the RHS.
As a member of The Kent Men of the Trees, he says that he has been stimulated by the wonderful visits that KMOTT have made to his home near the village of Leeds. There he has six acres of garden as well as four acres of natural woodland. The garden area has been given over to an arboretum that contains an extensive crab apple collection where he has planted over forty varieties, chosen mainly for their colour.
After the formal proceedings we will, as usual, have the opportunity to catch up socially, over tea and cake. We will also have details of the 2019 day trips, the long trip to West Sussex and the Christmas lunch.