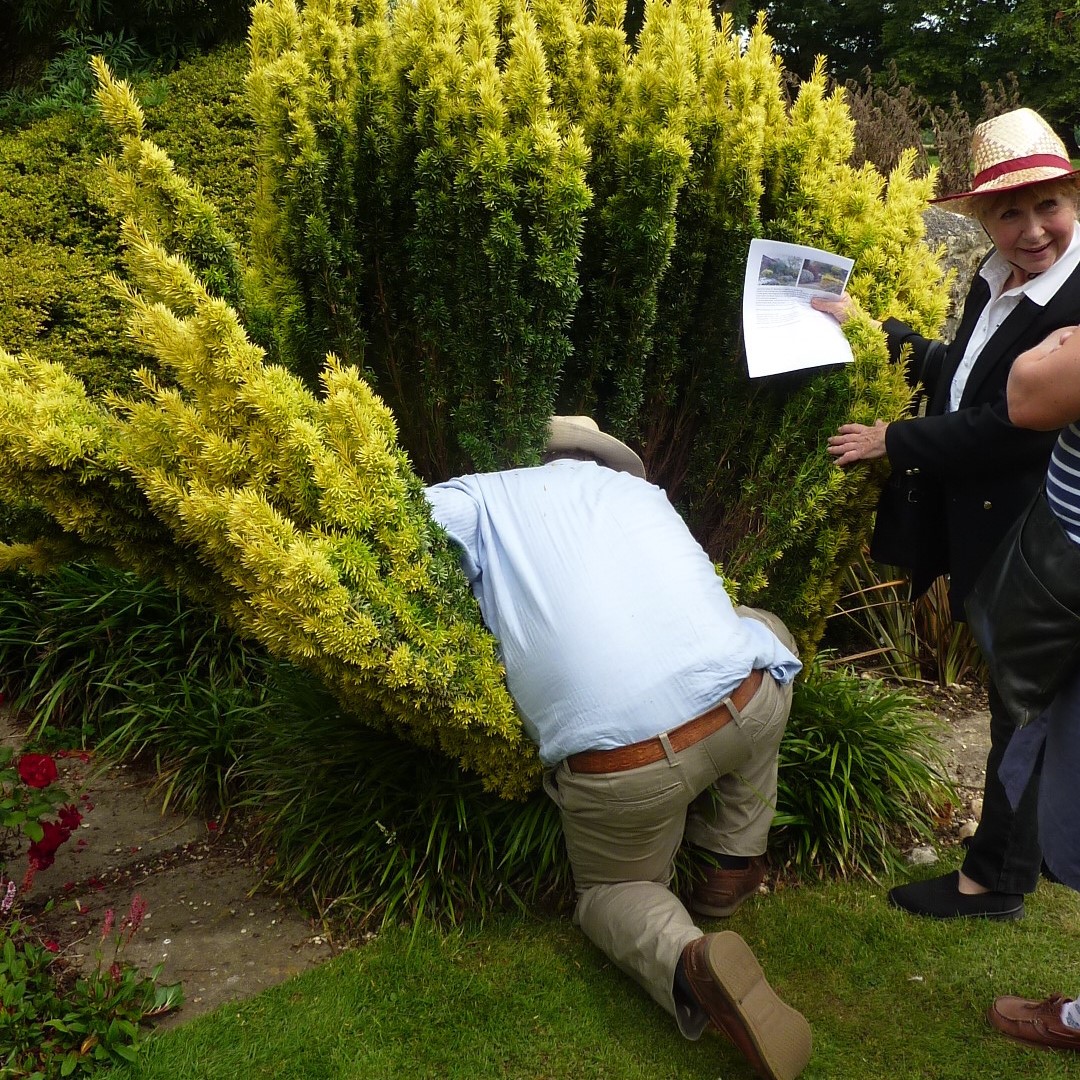 On the 17th of July 2019 twenty five members toured Sir Charles Jessel's estate at South Hill, Hastingleigh in glorious sunny weather. Sir Charles, riding his high-powered, turbo-charged buggy led us first through the garden and informed us that except for the gigantic specimen of Tilia adjacent to the house every other tree and shrub that we would examine had been planted by him. The first of many unusual trees that we spied was the rare form of Robinia pseudoacacia contorta with its twisted but perfectly sound leaves. A new acquisition to the collection was a fine specimen of Metasequoia bearing golden-yellow leaves. Following the onset of Dutch Elm disease Sir Charles managed to obtain from a Belgian nursery two specimens of Ulmus (hollandica?) which were purported to be resistant to the disease.
We examined the sole remaining specimen some twenty feet in height and which is now twenty-five years old and hopefully to become a fine specimen. The leaves were yellow-green with serrated margins on fastigiated branches. Hope springs eternal! Another tree which caught our eyes was a fine specimen of Gleditsia  bearing yellowish-green leaves identifying it as either G.sinensis or G. japonica rather than G.caspica.
          Leaving the garden we were led to the extensive arboretum which was cleared of undergrowth only in 2002 though some of the ancient cherry trees still remain. More than one hundred varieties of Hydrangea have been planted as an under-storey and members who were interested in these plants stated that they would have liked to spend a whole day in the arboretum; a second visit perhaps!
          Tea was served in Penstock barn some two miles from the farm and members were royally entertained with a sumptuous variety of comestibles; the orange- drizzle cake being a firm favourite with the male members! The Chairman thanked Sir Charles for allowing us to tour his estate and also thanked Vicki Jessel and her helpers in providing such a splendid repast to end the day.