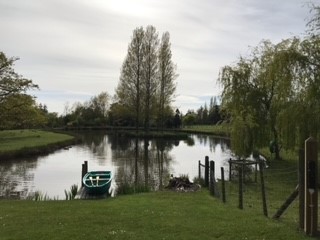 On 12th May 2021 – in glorious warm sunshine, 17 members visited Charles Aldington's lovely landscape garden overlooking Romney Marsh.
We were generously given nearly 2 hours of his time on a guided walk around the woodland and formal gardens enjoying huge views enhanced by careful planting to maximise their impact.
Charles has recently published privately his book 'On Landscape Design' which a number of members purchased. This discusses the theory behind landscape design and how carefully positioned planting increases visual enjoyment using material published by renowned garden designers – many in the 18th Century – and lavishly illustrated with examples from France and Germany as well as England.
The gardens also included around 100 Camellias. There is also an interesting collection of the Inkarho variants of  Rhododendrons and Azaleas through a German government research programme, which tolerate the 6.5 PH soil.
We were also shown  a good collection of Quercus, Acers and Pines.
A most interesting visit much enjoyed by our members.