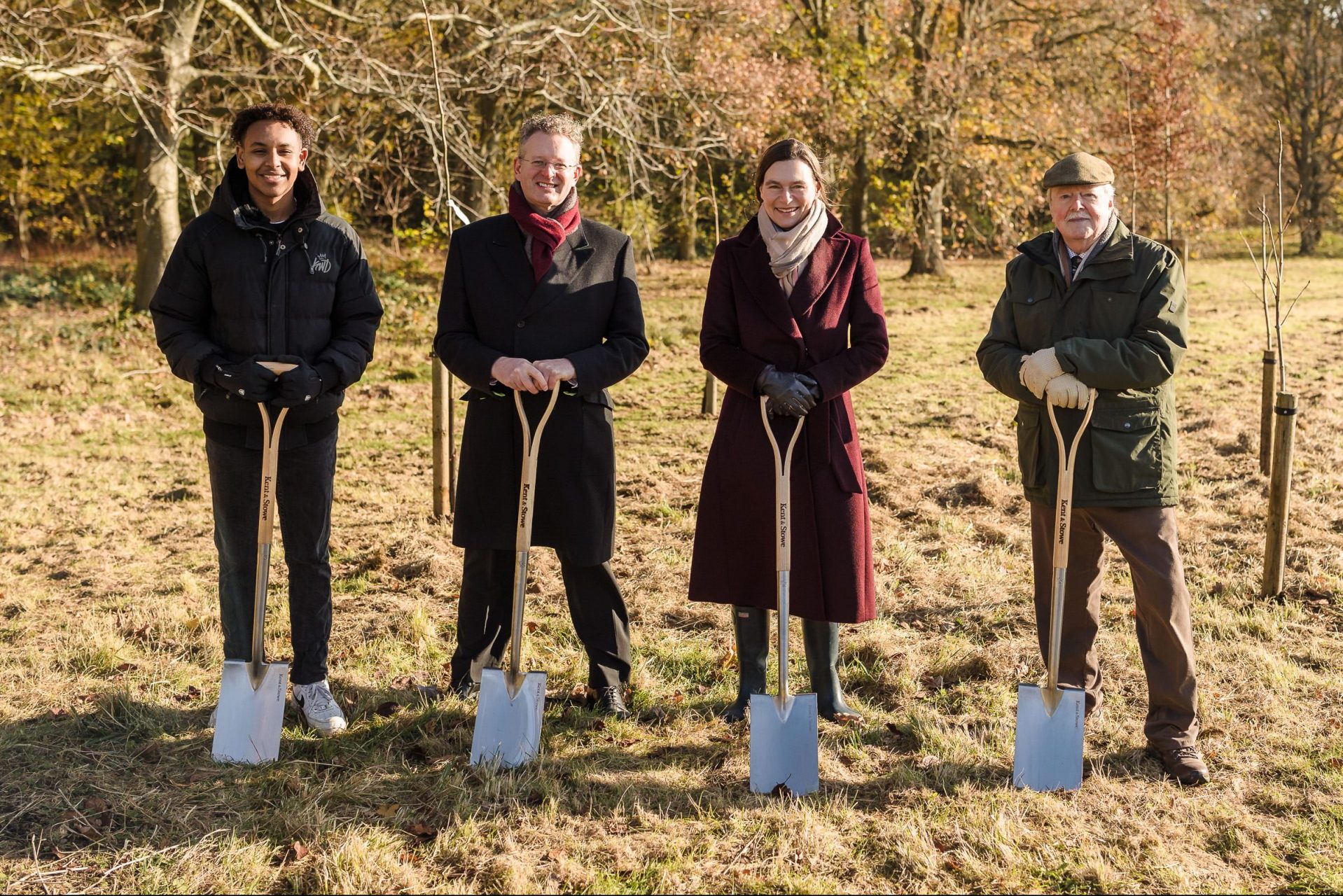 The Kent Men of the Trees is proud to have supplied 50 trees for two university sites in Kent. The first, at the recently established Kent and Medway Medical School (KMMS) on Kent's Canterbury campus and the second, outside the Verena Holmes Building on Canterbury Christ Church University campus.
The trees were planted late last year and we were delighted to donate them in recognition of The Queen's Green Canopy planting initiative as part of the Platinum Jubilee. The trees will also be registered with the Billion Trees Project. Species planted include Sorbus, Hazel, Oak, Beech, Maple, Poplar, Horse Chestnut and Lime.
The hosts across both plantings included: Professor Chris Holland, Founding Dean of the Kent and Medway Medical School; Professor Rama Thirunamachandran, Vice-Chancellor of Canterbury Christ Church University; Professor Karen Cox, Vice-Chancellor and President of the University of Kent; Professor Alun Griffiths, Chairman of The Kent Men of the Trees; and The Kent Men of the Trees Trustees' George Kirby and Paul Smallwood. The ceremony was attended by KMMS students.
Professor Holland said: 'The planting of these trees, a generous gift from The Kent Men of the Trees, not only provides a superb green resource for everyone to enjoy but also an opportunity to commemorate the founding of the Kent and Medway Medical School. The KMMS programme provides students with opportunities to learn about sustainability in healthcare and how environmental changes can impact on human health in a multitude of different ways. These trees are a potent symbol of our commitment to these twin goals.
'We are delighted to take part in The Queen's Green Canopy tree planting initiative to mark Her Majesty's Platinum Jubilee.  We have planted these to create a tree network in honour of the Queen's service and the legacy she has built. These trees will create a green legacy of their own, bringing benefits for people, wildlife and climate, now and for the future.'
Two of our KMOTT Committee members, Paul Smallwood and George Kirby, explained why tree planting at these universities is so important.
Paul Smallwood said: 'It is absolutely vital to the next generation.'
George Kirby added: 'I see this as the start of a relationship with the Kent Men of the Trees and the Universities. We heard about the potential expansion of the contribution and were very happy to support that. We're working with Kent County Council on Plan Tree, with planting a tree for every resident of Kent, so the more trees we can facilitate to be planted, the better for the environment, better for the world, and better for the local community.'