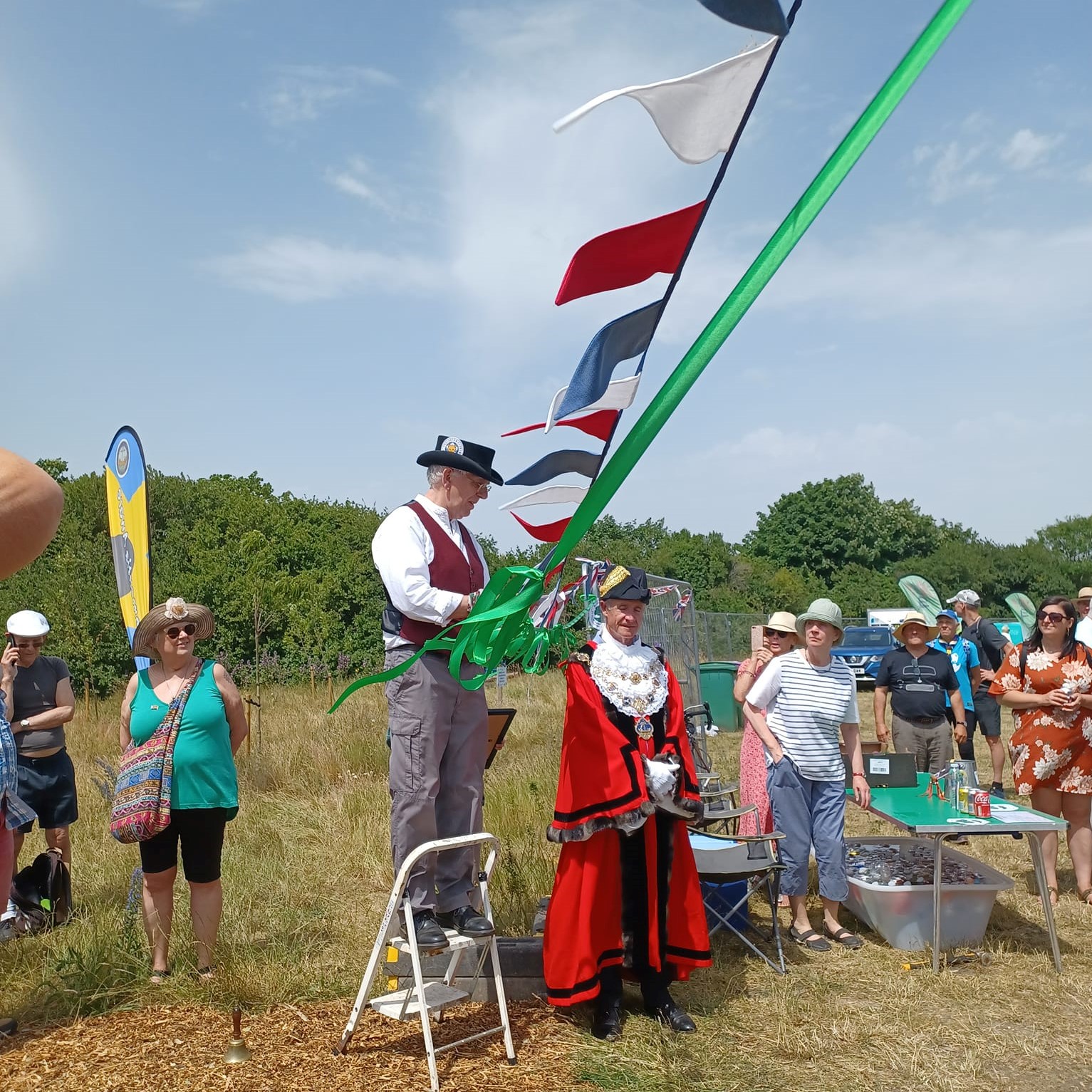 Hole Park Lime Avenue
KMOTT presented 70 Lime Trees to Hole Park near Rolvenden to celebrate HM The Queen's Platinum Jubilee and the Prince of Wales's tree planting initiative.
The site is on both sides of an existing public footpath to form an avenue and the intention is to also plant daffodils between the trees in the future so this will become a suitably impressive marker of this historic event.
On 2nd June 2022 the final two trees were planted ceremonially by The Lord Lieutenant of Kent – Lady Colgrain – and our President and Patron – Lady Tess Bruce-Lockhart assisted by Richard Latham from the Executive Committee.
The evening ceremony was attended by approximately 1500 people who were entertained to Maypole dancing by local school children, the Town Band from Cranbrook, an impressive Air Display, Large Bonfire and Fireworks all generously provided by the Barham family.
Hythe Green Woodland Area
On Saturday 18th June the Hythe Green Preservation Society staged a ceremonial inauguration of the Woodland Area of Hythe Green, which had been planted with more than 100 native trees earlier in the year in support of Her Majesty's Green Canopy. KMOTT was happy to donate 45 trees for the woodland area.
The event was honoured by the presence of the Mayor of Hythe, Cllr Jim Martin, and Mr David Horton, whose great-great Grandfather had been instrumental in dedicating the land now forming the Green to the benefit of and use by Hythe Town residents.
The celebrations, involving handbell ringers, musicians beating the bounds of the woodland and a youling ceremony to bless the woodland by offering cider to the trees, were enjoyed by around 150 residents and visitors, including George Kirby as representative for KMOTT.