On a perfect Summer's afternoon, an enthusiastic group of two dozen members met as agreed at Ladham House near Goudhurst. Whilst the Kent Men have visited once before in 2009, we were excited to return to this beautiful garden and to observe the improvements made by the Johnson family. We were guided through the walk by Aaron from the gardening team, and one of our party, George Jessel, was returning to his childhood home, so the appreciation of the splendid trees and borders was punctuated with George's personal memories from 40 years ago.
We were initially led through to a beautiful twin border from which we could admire the front of Ladham Hall. The borders were colourful, but of most interest at this stage were the Magnolia Cambellii "Betty Jessel" – a generous tree with enormous flowers (sadly now no longer showing) and a Japanese Camellia (Stewartia pseudocamellia) which still boasted splendid blossom. The Betty Jessel was planted in the 1950's and named after George Jessel's grandmother in 1967.
The group then passed through to the arboretum, which formed part of an extensive kitchen garden and orchard, where we lingered to admire and identify many splendid or unusual trees, including the Persian ironwood (Parrotia persica) – which was suffering a little but under constant observation by the gardening team – the Golden rain tree  or Pride of India (Koelreuteria paniculata). The very large field elm (Ulmus minor) with denticulated leaves challenged our knowledge but was identified, and we all enjoyed the dappled shade under the well-grown Katsura tree (cercidiphyllum-japonicum).
A small diversion was needed to admire the enormous bole of a splendid sweet chestnut tree (Castanea sativa), which was estimated to be at least 150 years old; thence to the woodland walk along rhododendron borders to spot a beautiful Snowbell tree (Styrax japonicus) still in bloom.
A further stroll past the pond, noting the good size Tulip Tree (Liriodendron tulipifera) still showing a little blossom and the vast Holm oak (Quercus ilex), took us to a group of tables set out on the patio behind the house looking out at the garden rolling away from us.  Our hosts had kindly prepared refreshments, which were readily accepted.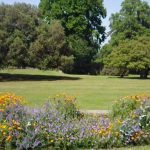 View from the verandah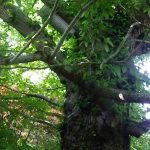 Sweet chestnut with tawny owl box